Chapter 1 : Synopsis and Introduction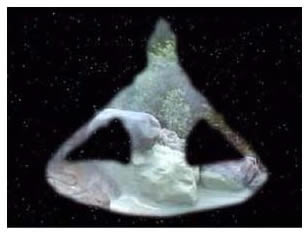 The anthology largely represents the "sanskar" ie. value systems imparted by SITA of the Indian epic Ramayana ( unconfirmedly dating back a few thousand years ago) to her twin children Lav and Kush.

The epic story briefly goes that Rama, the incarnation of Lord Vishnu had a very beautiful wife, Sita. When the time came for coronation of Rama as king of Ayodhya, his step-mother -who called up some boons promised by Rama's father , King Dashratha -insisted that, instead of Rama, it should be her son Bharata who should be crowned king ,further Rama be banished to the forests for 14 years.

Rama, as the obedient son, left for the forests. Sita as a dutiful wife accompanied her husband into the forest. Laxmana , the brother of Rama , was also with them. After some years in the forest, tragedy struck. Sita was abducted by the demon king Ravana of Sri Lanka . Ravana wanted to forcefully marry Sita, but she refused to marry him.

Lord Rama , with the help of forest-dwellers called "Vanars" or 'Forest -Ape-men' , then raided Sri Lanka and defeated and killed Ravana. Sita was put through a "Agni Pariksha" ie. 'test of fire' to prove her fidelity to Rama. Sita passed the test unscathed. Rama then brought his beloved wife home.

A few months later ,SITA found herself pregnant with the seed of love of her Lord Rama. But some doubtful citizens of Ayodhya kept mouthing foul words about SITA , as she had been earlier kidnapped by the evil Ravana.

In order to pacify his citizens, King Rama banished SITA ,who was pregnant,to the forests. At such a critical time , she took shelter at the hermitage of the fatherly Rishi (Sage) 'Valmiki'.

The anthology "SITA SHAKTI KAVYA ie. The EPIC of SITA'S EMPOWERMENT begins here.

SITA delivers twin sons in the hermitage. They are named by the Rishi as "Lav" and "Kush" . The anthology recounts how Sita is then transformed from the weak wife of Rama to a powerful mother.

The anthology gives graphic details of how SITA gives a good value-based upbringing to her children. SITA also emerges as the friend , philosopher and spiritual guide to the people around her in the forest.

SITA emerges as the all-powerful ,empowered divine Mother. So much so that eventually, even her husband Rama realises in her , the powerful feminine form of God and on behalf of himself and all the errant Ayodhya citizens, He begs forgiveness of her and prays to her to reside in His heart.