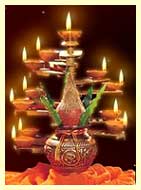 Diwali or Deepavali means an array of lamps (Deep = Lamp, Vali =Array). This is one of the major festivals in the Hindu calendar. It occurs in October/November, and is spread over four days. Dhanteras (Dhanatrayodashi) is the first day or rather the eve of the day on which the festival begins. Narkachaturdashi which is also known as Kalichoudas or Bali Pratipada is the second day. Laxmi Pujan and New year (Padava) normally occur (depending on the Hindu calendar) simultaneously on the third day and Bhai-beej (Bhaiya-duj) is the last day.

This is a very popular festival in many parts of India. The celebration of Diwali is marked by the lighting of innumerable lamps in every courtyard and the bursting of crackers. Sweetmeats, new clothes etc., are made as in other festivals. The time for rejoicing is mainly early morning and late night. These hours of darkness bordering the waking hours are preferred as lights and crackers are the highlights of the festivities and these need darkness to have their illuminating effect. Hence people rise early and go to sleep late.

Mythologies associated with Deepavali-



Ram's return from exile- According to mythology, the celebration of Diwali is closely bound up with one of India's classic epic, the Ramayan. Lord Ram is said to have reigned for a long time during which the people were happy and contented. Ramrajya (the reign of Ram) has come to connote an era of peace and prosperity.

The festival of Diwali, we were told, is celebrated to commemorate Ram's return from exile. Ramnavami, another festival is celebrated as the birthday of Lord Ram, sometime in March.


Deepavali - A Harvest Festival

Worship of the Goddess of Wealth (Laxmi), observance of the New Year and performance of Aarti (a ritual that combines worship and adoration) are a part of the festival. On the second day of Deepavaali (Kali Choudas) a ritual that is strongly suggestive of the origin of Deepavaali as an harvest festival is performed. On this day delicacies are prepared from pounded semi-cooked rice (called Poha or Pauva). This rice is taken from the fresh harvest available at that time. This custom is prevalent both in rural and urban areas especially in Western India. In rural areas, Diwali signifies only this aspect. The reason being the fact that Diwali which is celebrated sometime in October/November co-incides with the end of a harvesting season, known as the Kharif season when the fresh crop of rice is available.

Laxmi Pujan - A Veneration of the Prosperity at the end of an Harvest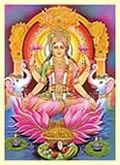 As mentioned earlier in this article, the harvest was an important occasion for rejoicing in all agrarian societies. Diwali which occurs at the end of a cropping season has along with the above custom, a few others that re-inforce the hypothesis of it having originated as a harvest. Every harvest normally spelt prosperity. Veneration of this prosperity must have been at the origin of the worship of the Goddess of wealth (Laxmi). For Farmers, a Festival marking the end of one Harvest and the beginning of another, was a festival heralding the beginning of a New Year.

The association of the New Year (termed) Paadva or Paadvo, with Diwali also substantiates the harvest festival theory. The end of one harvest and beginning of another meant the end of one cycle of activity and the beginning of another, as all activities in an agrarian economy must have been linked-up largely with agriculture. Hence it was quite natural to look upon a festival that was observed at the end of one harvest season and the beginning of a new one, as a festival heralding the beginning of a new year. Gudi Paadva which is also looked upon as a new year in some parts of India (Maharashtra, Karnataka, Andhra) also occurs at the end of another croppping season (the Rabi season) and coincides with a harvest. This festival comes around March. And finally both the occasions on which the new year is observed are called Paadva.

The word Paadva is etymologically quite close to the Sanskrit word for crop which is 'Pradurbhu'. Paadva might be a corrupted form of the original word for "crop" which was used to term the new year festival. The inference that can be drawn from the above clues is that Diwali as a festival owes its origin to the reaping of a harvest.A Harvest presented a logical occasion for rejoicing and merriment.

by Sudheer Birodkar